Who doesn't love a good Netflix binge? There are some really fantastic series on Netflix at the moment, and did you know? The best ones are (of course) based on books. Read on to see where some of your favourite shows take inspiration from!

A Series of Unfortunate Events  –  A Series of Unfortunate Events by Lemony Snicket
Based on the darkly humorous children's series by Lemony Snicket, this Netflix Original Series recounts the woeful tale of the three Baudelaire orphans: Violet, Klaus, and Sunny. Unfortunately, they are exceptionally unlucky, and must deal with an ever-rotating band of repulsive villains, including the horrible Count Olaf.
Anne – Anne of Green Gables by Lucy Maud Montgomery
This hit new series on Netflix is based on the beloved Canadian classic, Anne of Green Gables. Set in the fictional town of Avonlea on Prince Edward Island, it's the story of Anne Shirley, a plucky young orphan who is mistakenly sent to stay with Marilla and Matthew Cuthbert as a farm hand. Spirited, adventurous and imaginative, Anne quickly wins over the Cuthberts, Avonlea, and many generations of readers.
Outlander – Outlander by Diana Gabaldon
The historical fantasy TV show based on the novel of the same name is now on Netflix, and what a story! Claire Randall, a former World War II nurse is transported back to Scotland in 1743, where she meet a dashing young warrior Jamie Fraser. Claire is torn between two different men and two different eras, and what follows is quite an adventure!
Alias Grace – Alias Grace by Margaret Atwood
Following the success of The Handmaid's Tale, a new series based on Margaret Atwood's Alias Grace is now on Netflix. It's the story of Grace Marks, a young servant in Upper Canada, who is accused (and convicted) of murdering her employer and his housekeeper in the 1800s. It's based on actual events!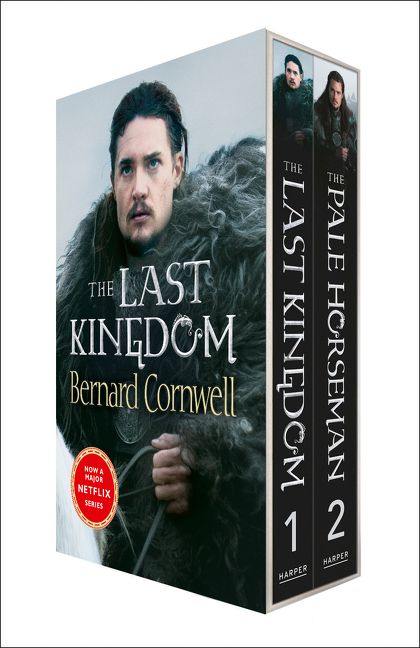 The Last Kingdom – The Last Kingdom by Bernard Cornwell
Based on the bestselling novels by Bernard Cornwell, The Last Kingdom chronicles the making of England during the 9th and 10th centuries. Born Saxon but raised by the Vikings, Uhtred is a fierce warrior. King Alfred the Great has defeated the Vikings occupying three of England's four kingdoms and Uhtred must choose sides. Uhtred and Alfred's fates are tangled and darkened by the war. Together they will be the ones to change history.
Making a Murderer – Illusion of Justice by Jerome P. Buting
This is a special case, where a book gets its origins from the show. Illusion of Justice is a firsthand account from Jerome P. Buting, the defense counsel for Steven Avery, who was subject of Netflix's very popular Making a Murder.  Interweaving the Steven Avery trial with other high-profile cases from his career, Bunting explains the shortcomings of America's criminal justice system.
13 Reasons Why – 13 Reasons Why by Jay Asher
13 Reasons Why took Netflix by a storm last year! The thirteen-episode series chronicles the last months of Hannah, a young highschooler who takes her own life. After her death, her friend Clay finds a box of tapes recorded by Hannah. On the tapes, she details the 13 reasons why she committed suicide, one tape for each person involved. The show is based on the book 13 Reasons Why by Jay Asher, which is devastatingly compelling and an important exploration into mental health.
Orange is the New Black – Orange is the New Black by Piper Kerman
One of the first original Netflix series, Orange is the New Black is both hilarious and heartwarming. It follows Piper Chapman, a middle-class white woman who is sent to a women's prison for a drug smuggling charge from her youth. There, she meets other women dealing with their own struggles and convictions, and sheds light on the many issues of the prison system. The show is based on Piper Kerman's memoir, Orange is the New Black, which chronicles the author's own year spent in federal prison.
Riverdale – The Archie Comics
Riverdale: you either love it or hate it, and you can watch it all on Netflix! Based on the beloved characters from the Archie comics, Riverdale is a teen drama series that follows Archie and the gang as they navigate high school and uncover a deadly mystery in their hometown of Riverdale. The show is much darker than the original comics, but features the same cast of characters: Archie, Jughead, Veronica, and Betty.
Girlboss – #Girlboss by Sophia Amoruso
Based on the bestselling memoir #Girlboss by Sophia Amoruso, this original Netflix series tells the story of how Amoruso rose up to create her company Nasty Gal. She went from dumpster diving to CEO of a fashion empire, and the Netflix series lightheartedly chronicles her rise to the top.
What's your favourite show that based on a book? What are you binge-watching right now? Tell us in the comments below or on Twitter!
Kelsey
Follow me on Twitter @SavvyReader & @iamkelseyknight